Signs of hormonal imbalance include:
Problems conceiving 
Hormonal acne on face or body 
Premenstrual tension
Weight gain and fluid retention 
Difficult menopausal symptoms such as hot flushes
Problems sleeping and anxiety 
Low sex drive 
Signs of osteoporosis 
Low energy
Mood swings
Polycystic ovaries or endometriosis
Do any of these symptoms prevent you from living life to its fullest?
Balancing your hormones as a female can be a tricky business
Adolescence, pregnancy, weight fluctuations, menopause and other factors can have a huge influence on our hormone levels.
Besides these normal phases in our life, exposure to hormones from the overuse of oral or implant contraception, plastic bottles (PCB's), consumption of certain meats/dairy products and elevated stress levels can make it hard for our body to maintain hormonal balance.
Women of all ages can be affected by this issue
The use of hormone replacement therapy in menopausal females has now been linked to a higher risk of breast cancer, cardiovascular disease and stroke (1).
When hormone imbalance is the cause of bad acne the contraceptive pill is often prescribed as treatment. Unfortunately the pill has been linked to mood swings, weight gain and issues with fertility later on in life. Often the pill only masks symptoms rather than actually fixing the hormone imbalance. For this reason many women are turning to effective natural therapies for balancing their hormones.
Fem21 – The Natural Solution
Fem21 is a herbal formula designed specifically for women that balances hormones, detoxifies the body and balances alkalinity. Supporting women's health holistically, Fem21 is handcrafted from a unique formula of 21 ingredients known for the following actions .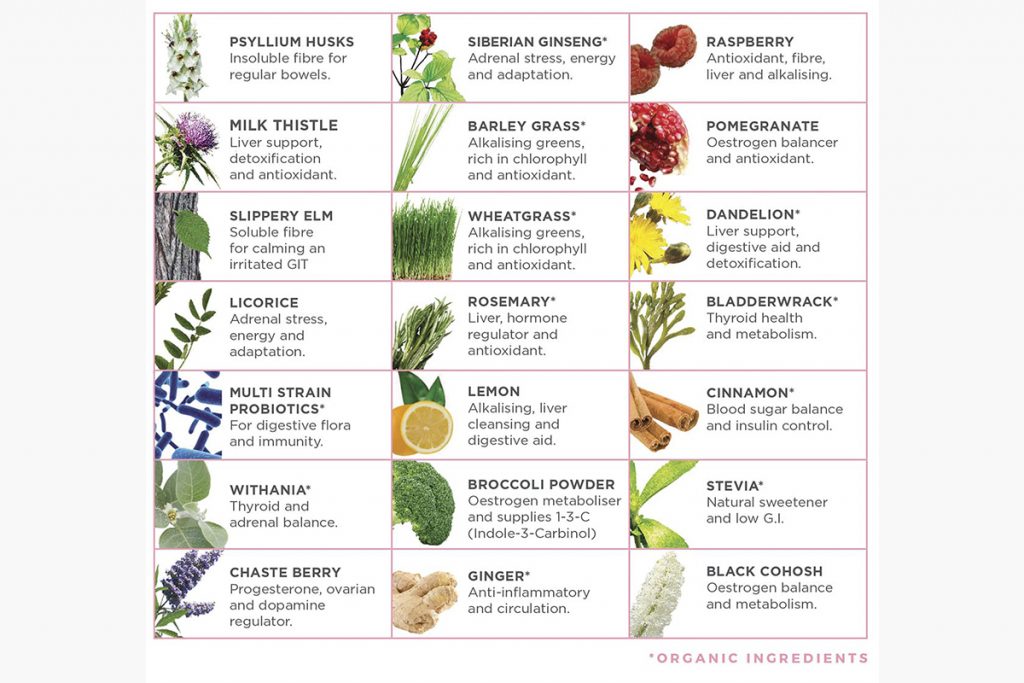 For women, hormonal balance is extremely important. We'd all love to meet the different stages and cycles of female life feeling our very best, but for many this isn't the case. Unfortunately a lot of women ride a monthly physical and emotional rollercoaster which impacts our quality of life. By naturally balancing our hormones we can feel energised, calm and in control.
The beautiful Fem21 formulation is a combination of functional foods, herbal medicine and natural therapies that balances out the hormones, helping you to feel and function at your best.
Fem21 supports the body by:
Stimulating the liver and digestive cleansing, which helps everything from the absorption of nutrients to the elimination of toxins.
Providing an array of powerful nutrients to control inflammation, reduce cellular oxidative stress and boost energy.
Supporting adrenal and thyroid function, which may decrease stress and boost metabolism.
Along with a healthy lifestyle and diet, the Naturopathic Fem21 formula has been developed to support your body to regain health, balance and vitality.
A Naturopaths Perspective
See what Integrative Medicine Naturopath Rowena has to say about FEM21
The Finer Details
Not recommended for use in pregnancy.
Not recommended whilst exclusively breastfeeding, generally safe after baby is 6 months.
Not recommended if using oral contraceptives or implant devices as it may alter the contraceptive action (can be used safely with an IUD)
Monitoring is advised with high blood pressure if sensitive to licorice.
Discuss use with your doctor or health care practitioner if you have any concerns
ALWAYS BE CAREFUL WHEN BUYING PRODUCTS THAT CLAIM TO HELP HORMONES.
There are a lot of products out there but do they actually work? Are they recommended by medically trained integrative medicine practitioners?

Manufacturing
Australian made and owned.
Fem21 is made with HACCAP approved Private Label Foods in Molendinar on the Gold Coast in Australia and is totally Australian owned. The 21 natural ingredients are sourced from local suppliers where possible. 
See our Frequently Asked Questions page for answers to many of the questions we receive about Fem21.